Municipal Implications

Municipal governments and District Social Service Administrative Boards play important roles in the health care system: co-funding it, delivering services, and employing professionals of vital services such as public health, land ambulance, and long-term care homes. These services have been, and continue to be, on the frontlines of Ontario's COVID-19 pandemic response.

However, the municipal role is often overlooked by the Province. Municipal governments have stepped in to fill the gaps when needed, especially in providing services to the most vulnerable in our communities.  Many municipal governments fund above their required cost-share to address community needs. As such, municipalities need to be treated as funding governments, not as stakeholders, in planning how to deliver services that meet the needs of local communities. 
In addition to direct services, municipal governments are also expected to fund a portion of capital expenses for hospitals, long-term care, and public health.  Currently, capital funding for new hospitals is shared between the Province and municipal governments at 90% and 10% respectively.  Municipal governments often contribute beyond the required 10% to cover additional costs. This is a major challenge for municipal governments, particularly rural, small urban, and northern municipalities. In these less affluent jurisdictions, municipal governments struggle to raise sufficient funds to provide their communities with desperately needed hospitals. This creates significant inequities in access to healthcare across the province.  In 2018, municipal governments contributed $2.23 billion in combined operating and capital costs for health services.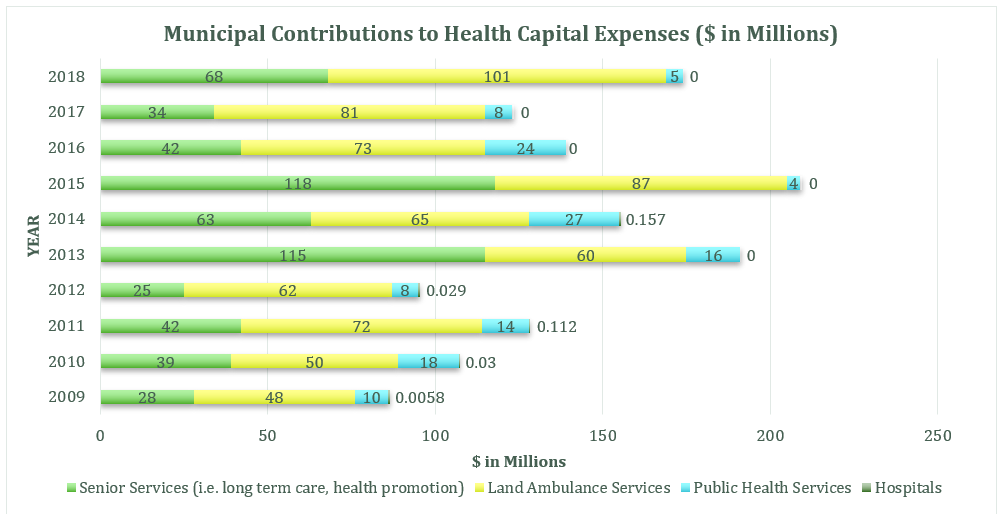 Health care is the Province's jurisdiction and responsibility. The Province needs to take on a greater role and provide adequate funding for the operation of hospitals and fund all of the capital costs for new hospitals and major capital repairs to ensure that people receive the care they need within their communities.   
Background
Health care consistently ranks as a major concern for Canadians, and Ontario is no exception. As the COVID-19 global pandemic made clear, a strong health care system is critical in preparing for emergencies of this scale and responding effectively to keep people safe. People expect and deserve to have fair access to high quality health care. This can only be achieved by a system that is well planned, efficiently operated, and adequately funded. Residents are increasingly looking to their local municipal councils to represent the community's concerns about health care provided by institutions, health care professionals, and the Province.  
Municipal governments and the provincial government can work to achieve fair access to high quality and cost effective health care for all Ontarians. Municipal governments are co-funders of health services and well positioned on the ground to provide meaningful input into healthcare planning and local operations. For more information, please see AMO's discussion papers on the municipal role in healthcare, "
Partners for a Healthy Ontario
," and its accompanying document, "
A Compendium of Municipal Health Activities and Recommendations.
" These papers discuss how to improve outcomes for people and communities through changes to funding, governance, and delivery.