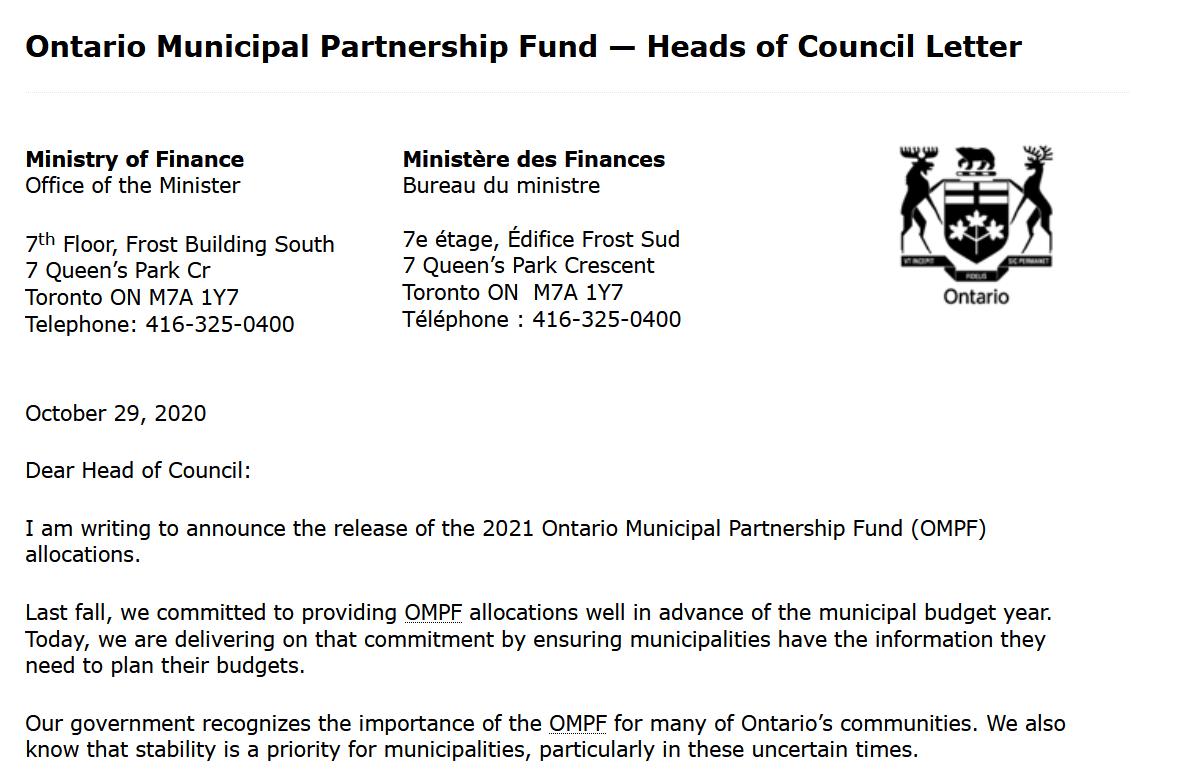 2021 OMPF Allocations and LTC Home Community Paramedicine Program
2021 OMPF Allocations Announced

Late yesterday, the Ministry of Finance issued allocation notices for the 2021 Ontario Municipal Partnership Fund (OMPF). The total funding envelope will remain at $500 million. These dollars are distributed to 389 municipal governments across the province and provide unconditional operating support for local frontline services. This early announcement of the 2021 OMPF allocations is much appreciated given current 2021 municipal budget deliberations.

At the 2020 Annual AMO Conference, Premier Ford announced that there would be "no changes to the structure" of the OMPF for 2021. This was positive news for municipalities amidst the ongoing uncertainty of the COVID-19 pandemic. The adverse financial impacts to date will carry into the 2021 budget year and a stable and predictable OMPF benefits Ontario's municipalities and communities.

Letters to Heads of Council and Treasurers have been sent out and the allocation notices may also be viewed on the Ministry's website. We understand that $5 million is being shifted from the Transition and Stabilization Grants and has been reallocated in the Rural Communities Grant by $2 million and the Northern & Rural Fiscal Circumstances Grant by $3 million, keeping with recent practice.

The Ontario Municipal Partnership Fund (OMPF) provides unconditional operating support from the Province to municipal governments. It uses an equalization approach to address challenges in rural and northern communities, with funding based on various community fiscal health indicators.
Historical OMPF Allocations (in millions of $):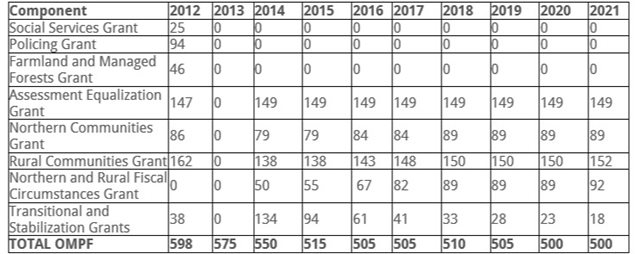 LTC Home Community Paramedicine Program Launched

Today the government announced an investment of up to $5 million for a new community paramedicine initiative. It is designed to support people staying in their homes longer while on the waitlist to access long-term care. AMO is supportive of this stand-alone community paramedicine program as it will be fully funded by the provincial government and operated in partnership with local municipalities and District Social Services Administration Boards.

It will be implemented in phases. The first phase will include the communities of Brant County, Cochrane District, the City of Ottawa, Renfrew County, and York Region. These communities will build upon their existing community paramedicine programs to expand their service offering. Depending on the successful experience of the first phase projects, we understand that the program may be expanded to additional communities interested in participating in a second phase of the program on a voluntary basis.

"Our population is aging, with increasingly complex health care needs. This strains both long-term care and paramedic services. It's great to see community paramedicine evolve to meet this growing challenge with full provincial funding through Phase 1 of this program. It leverages the expertise of community paramedics to ease the pressure on long-term care and help keep seniors who need support safe and comfortable at home."  Graydon Smith, President, Association of Municipalities of Ontario

AMO's COVID-19 Resources page is being updated continually so you can find critical information in one place. Please send any of your municipally related pandemic questions to covid19@amo.on.ca.