Strengthening Personal Resilience
| | |
| --- | --- |
| | |
As the pandemic wears on, leaders can become worn down. AMO has joined with the Loomex Group to offer training that provides tools for elected officials to build resilience and strength in providing leadership through and beyond COVID-19.

Pandemic fatigue is impacting organizational leaders. Stress is building.

While positive news about vaccines gives new hope, it does not change the fact that people may be struggling—and it could be the case for many months to come. Leaders need opportunities to restore and care for their well-being. In response to the need for self-care and well-being for those in leadership positions, the Loomex Group are facilitating a one-day, virtual workshop to support the strengthening of personal resilience for municipal leaders. The Loomex Group facilitators bring a wealth of experience in dealing with high-stress situations and have an acute awareness of the strategies that support resilience.

This virtual and experiential workshop will explore:
healing exercises facilitated by an Indigenous community leader
how to cultivate personal resilience and mindful leadership
crisis communication tools
supports required to move forward.
Registration is limited and on a first come first serve basis.
If you require a login to register online, please email amo@amo.on.ca.
Please save login as it can be used for online registration for all AMO, LAS and ROMA events and trainings.
 
Date: Thursday, September 16, 2021
Time: 9:00 a.m. - 3:00 p.m. EST
Registration Fee: $225 + HST 
Cancellation Fee: $50.00
---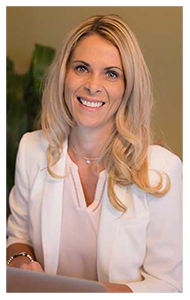 Amelia Valenti
Director, Education, Training & Organizational Wellness

Amelia has an extensive background in education, training, and leadership development. She is a registered administrator and teacher with Ontario College of Teachers, a Certified Facilitator, and a Certified Coach. Amelia's areas of expertise include project development and monitoring, strategic planning and assessment, policy creation, professional learning design and facilitation, and organizational well-being.
Amelia holds a Bachelor of Arts from the University of Western Ontario and a Bachelor of Education, as well as additional teaching and principal qualifications. Her portfolio of accomplishments includes course development and delivery, workshop design and facilitation, leadership training, and strategic planning. Amelia is an authentic educator who provides effective questioning and quality education in all adult learning environments.