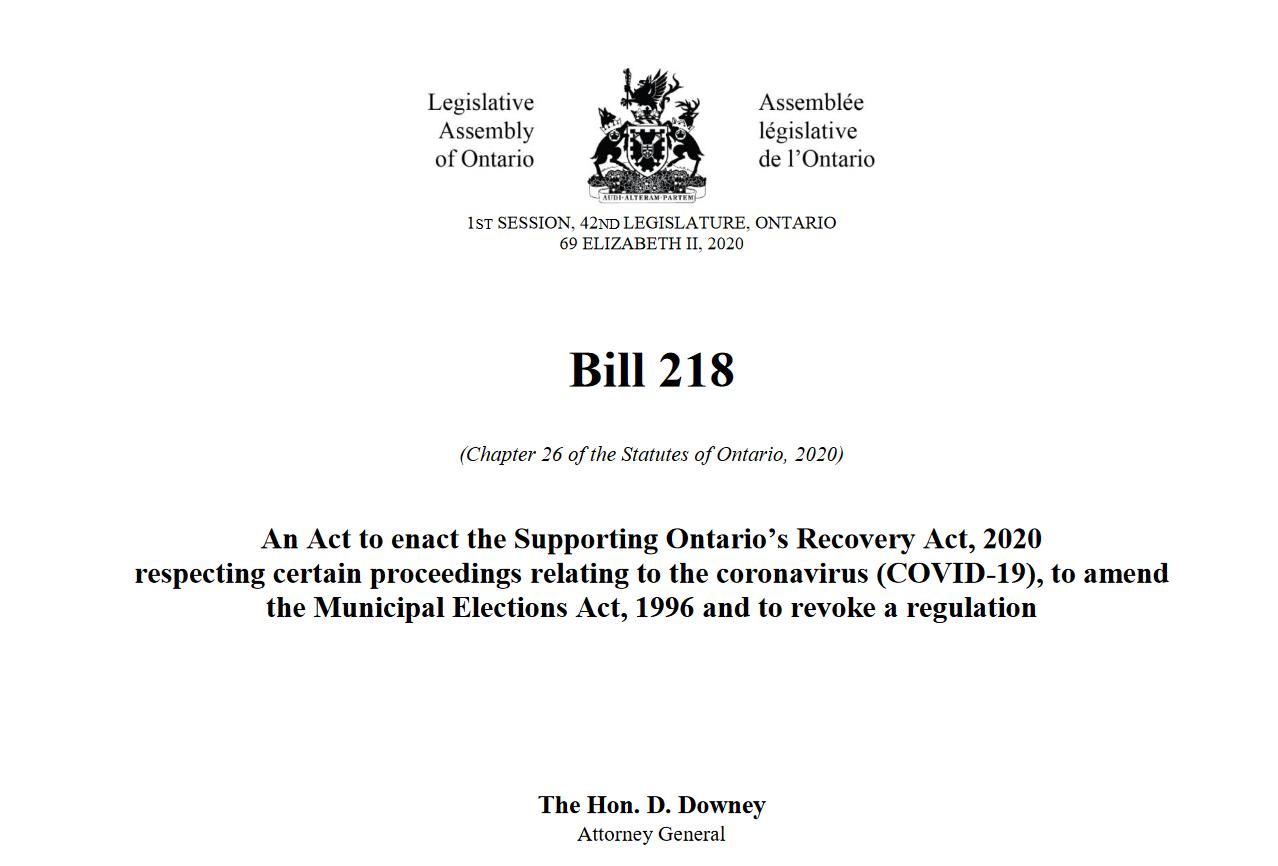 Bill 218 Passes, 2020 Auditor General's Report, and Clarification of Budget Property Tax Measures
Bill 218, Supporting Ontario's Recovery and Municipal Elections Act, 2020 Passes

The Legislative Assembly of Ontario gave Third Reading to Bill 218 and its changes which provide liability protection for good faith actions to protect Ontarians from COVID-19. The Bill also revoked regulations under the Municipal Elections Act allowing ranked ballot elections and changing the nomination deadline for candidates.

AMO submitted Bill 218, Supporting Ontario's Recovery and Municipal Elections Act, 2020 comments to the Standing Committee on Justice Policy regarding the Bill that were very supportive of the changes to liability protections and expressed concerns regarding the changes to the Municipal Elections Act.  While the Bill's changes to ranked ballot elections stand, the legislation changes the date for receiving nominations to the third Friday in August of an election year. This reflects the concerns of municipal election administrators regarding needed time for ballot printing and other administrative needs.

Annual Auditor General Report Details Considerations to Improve Greenhouse Gas (GHG) Reductions and Access to Park Space
 
Ontario Auditor General Bonnie Lysyk tabled her 2020 Annual Report today.  The report reviews some provincial GHG reduction actions and access to park space in Ontario, calling for an overall focus on climate change as an all-of-government priority as committed to in the Made In Ontario Environment Plan.
 
This pays particular attention to GHG emissions in the building sector as Ontario's third most significant source and makes recommendations on better energy conservation measures through the Ontario Building Code and updating the Long-Term Energy Plan to reduce fossil fuel use in buildings, particularly natural gas use which has been increasing.  Assessment of building inspection programs and training for inspectors and trades is also reviewed.
 
The Report reviews access to park and natural spaces in Ontario and suggests improved focus on biodiversity in these areas to protect the natural environment.  Recommendations call for improved focus on land use planning and ecology.

Ministry of Finance Clarifies BET Rate Reduction Impacts to Municipalities

On November 17th, the Ministry of Finance wrote to Treasurers/Clerk-Treasurers across the Province to clarify several announcements related to property tax and assessment measures from the provincial budget.

Of note, the letter addresses recent concerns on reducing Business Education Tax (BET) rates for municipalities that host facilities that fall under the payment in lieu (PIL) category of property taxation with assessed values in commercial and industrial tax classes. The Ministry indicates it will ensure municipalities are not negatively impacted by the BET reductions. To that end, the Province will maintain BET rates at the 2020 BET rate for properties whose PIL of education taxes are permitted to be retained by municipalities.

AMO continues to analyze in conjunction with association partners to evaluate the municipal impacts of these proposed property tax and assessment changes. 

AMO's COVID-19 Resources page is being updated continually so you can find critical information in one place.  Please send any of your municipally related pandemic questions to covid19@amo.on.ca.