On behalf of the AMO Board of Directors, AMO is pleased to provide the Association's most current 2022 Annual Report.

The Report includes messages from the AMO President and the Secretary-Treasurer, the Executive Director's Report, along with information on the activities of the Association during the year, and the audited financial statements.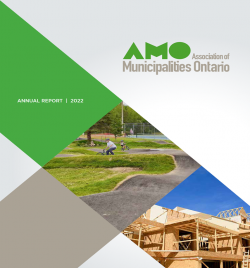 Older reports are also available for download.
 

NOTE: Every attempt has been made to make AMO Annual Reports accessible. Financial statements are provided by a third party and are not AODA compliant. If you require a fully accessible document please contact AMO at amo@amo.on.ca or 416.971.9856.